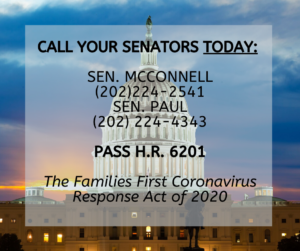 Two easy options to call:
Thanks to MomsRising and Indivisible, there are two phone numbers you can use to reach your senators. They each have suggested messages you can use, or use what's below.
MomsRising: Text COVID19 to 747464 or call 1-844-633-2048
Indivisible: Click here to connect directly to your senators' offices.
Sample script:
"Hello, my name is ______ and I am from [city/town]. This is urgent: Please tell Senator _____ to vote for the House coronavirus bill NOW – it protects people most in need and so protects all of us. The bill includes immediate paid sick leave and paid family leave, unemployment insurance, nutrition aid, more Medicaid funds for states, and free testing. The House bill is a necessary start – please vote for it now, and then get to work on providing more help for the most vulnerable, including health workers."