Kentucky Voices for Health will be holding its 2021 Annual Meeting – VIRTUALLY – on Thursday, December 2nd and Friday, December 3rd this year. Check out the agenda!
REGISTER FOR THURSDAY, DECEMBER 2ND
Sessions include:
– "Building a Better Safety Net for All Kentuckians to Thrive"
– "Updates on the DCBS 21st Century Transformation"
– "Raising Voices: The Real Life Impact of Kentucky's Safety Net"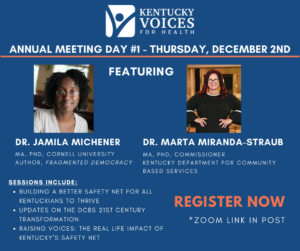 REGISTER FOR FRIDAY, DECEMBER 3RD
Sessions include:
– Accessing & Manuevering the Kentucky General Assembly
– Panel: "2022 Legislative Preview: Advancing Policies for Better Health"
– Coalition Updates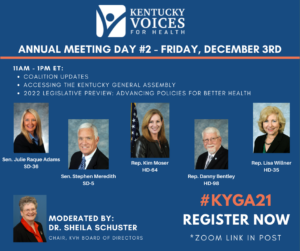 Stay tuned as we provide additional updates on featured speaker spotlight, panelists, and MORE.
Interested in being a sponsor for this year's annual meeting? Please email Kelly Taulbee at Kelly@kyvoicesforhealth.org. THANK YOU to our first round of sponsors who have made silver and gold commitment levels to our 2021 Annual Meeting!