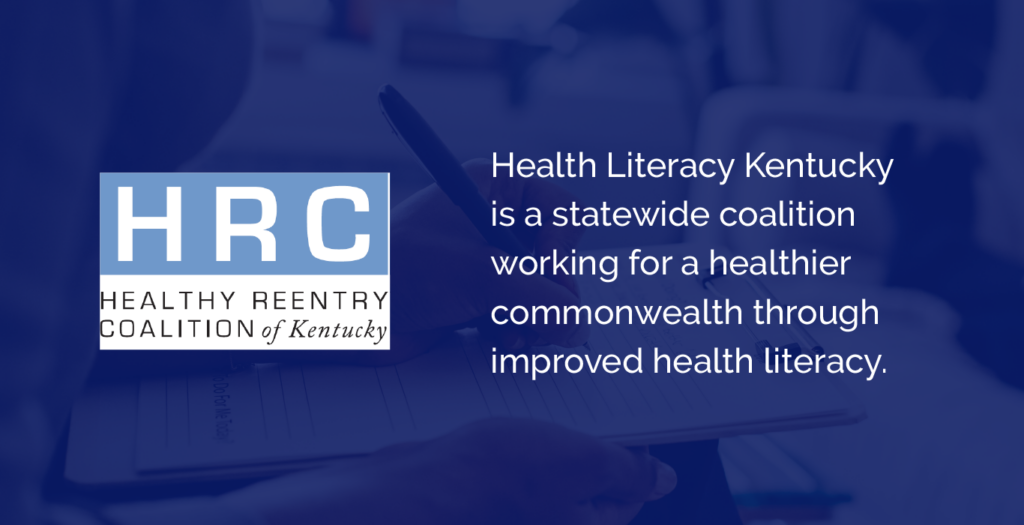 Health Literacy is
"the degree to which individuals have the capacity to obtain, communicate, process, and understand health information and services needed to make appropriate health decisions."
(Affordable Care Act, 2010)
Tools & Resources
Kentucky Health Insurance Literacy Training Modules
MODULE 1
Module 1.1: Health Insurance Literacy Introduction Dr. Jean Edward, University of Kentucky
Objectives

Define health insurance literacy
Describe current statistics on Health Insurance Literacy in the US and Kentucky in specific
Recognize the impact of limited Health Insurance Literacy on access to healthcare services
MODULE 2
Module 2.1: Understanding Health Insurance in Plain Language Elizabeth Edghill, Family Health Centers
Objectives

Share strategies for explaining the broad concept of health insurance in plain language
Examine what one needs to know about health insurance-costs, terminology, covered services, and networks
Share sample resource, wording, and visual representations for defining cost-sharing terms and concepts


Module 2.2: Patient Protection and Affordable Care Act (ACA) Malea Hoepf, University of Louisville
Objectives

Describe at least 2 goals of the ACA
List two ways the ACA changed access to health insurance
Identify at least one resource to learn more about the ACA in their state


Module 2.3: Enrolling in Private Health Insurance Plans Ashley Shoemaker, Family Health Centers
Objectives

List the key questions and factors that clients need to consider when selecting a health insurance plan
Explain the eligibility guidelines, open enrollment and special enrollment periods
Help clients effectively compare different health insurance plan options


Module 2.4: Enrolling in Public Health Insurance Plans Ashley Shoemaker, Family Health Centers
Objectives

List the different parts of Medicare, including what services are covered
Explain in broad strokes the different categories of Medicaid coverage
List the general eligibility requirements for Medicare and Medicaid
MODULE 3
Module 3.1: Using Health Insurance to Access Care Elizabeth Edghill, Family Health Centers
Objectives

List situations when one should use their health insurance card
Define health insurance terms, costs, and key documents using simple examples and plain language
Emphasize the importance of paying premiums and meeting requirements to keep health insurance coverage
Share an activity that can be used with individuals or groups to compare and contrast the levels of care in Kentucky's health care system


Module 3.2: Troubleshooting Health Insurance Problems Emily Beauregard, Kentucky Voices for Health
Objectives

Understand the types and causes of surprise medical bills
Learn how to avoid getting a surprise bill and ways to resolve one
Understand what issues can be appealed or filed as a grievance
Learn the steps of the appeals process and where to go for assistance
Tools for Teaching
These materials have been developed and used by Health Literacy Kentucky members over the past several years. We encourage you to adapt and use them with community members and professionals in your area! We'd love to know about updates you make and audiences that you reach. Connect with us here.
Resources
Research
About Us
Health Literacy Kentucky (HLK) is a statewide coalition working for a healthier Commonwealth through improved health literacy. We are a group of advocates, health care professionals, and academic partners who have been volunteering and promoting health literacy initiatives together since 2009.
Learn more!
Health Literacy Kentucky works to:
Encourage cross-discipline partnerships for health literacy programs across the state
Raise awareness of the issues related to health literacy in communities across the state
Provide training for healthcare professionals and healthcare systems
Foster the development of ongoing health literacy research in Kentucky
Share Kentucky-specific health literacy challenges, interventions, successes, and failures
Steering Committee
Jim Ballard, EdD, MS
UK Center for Interprofessional Health Education

Emily Beauregard, MPH
Kentucky Voices for Health

Gina Brien, MA
Appalachian Kentucky Healthcare Access Network

Liza Creel, PhD, MPH
UofL Commonwealth Institute of Kentucky

Liz Edghill, RN, BSN, BA
HLK Chair
Family Health Centers

Jean Edward, PhD, RN, CHPE
UK School of Nursing

Nancy Harrington, PhD
University of Kentucky Department of Communication & College of Communication & Information
Request a Speaker, Training or Consultation
Events
Events Search and Views Navigation
No matching events listed under Health Literacy. Please try viewing the full calendar for a complete list of events.